Best Treehouse To Stay In : Experiential Stays
Amidst the greenery and waking up to the sound of the birds and the rustling of the leaves, the experience of a treehouse in itself is inconceivable and magical.
Staying in a treehouse has been a dream of many, but only a few are fortunate enough to experience it.
So, we are here to make your dreams come true!
Best Treehouse to Stay in Himachal
One of the best treehouse to stay in Himachal lies in Kotkhai, a small city, which rests at an altitude of 1800m in Shimla district of Himachal Pradesh.
Far away from the hustle and hassle of city life, the experience of the treehouse stay will leave you rejuvenated!
As a result, this place is 7000 feet high from sea level and is pollution-free.
To reach Ojuven Via Chandigarh/Kalka Road, one can take Shimla Baghi road, via Chaila and Gumma.
Moreover, adventure lovers can take another road from solan to reach here.
This road is from solan to our destination, via Yeshwant Nagar, Snowra, Naripul, Sainj, Chaila And Gumma.
From Shimla to ojuven it hardly takes around two hours.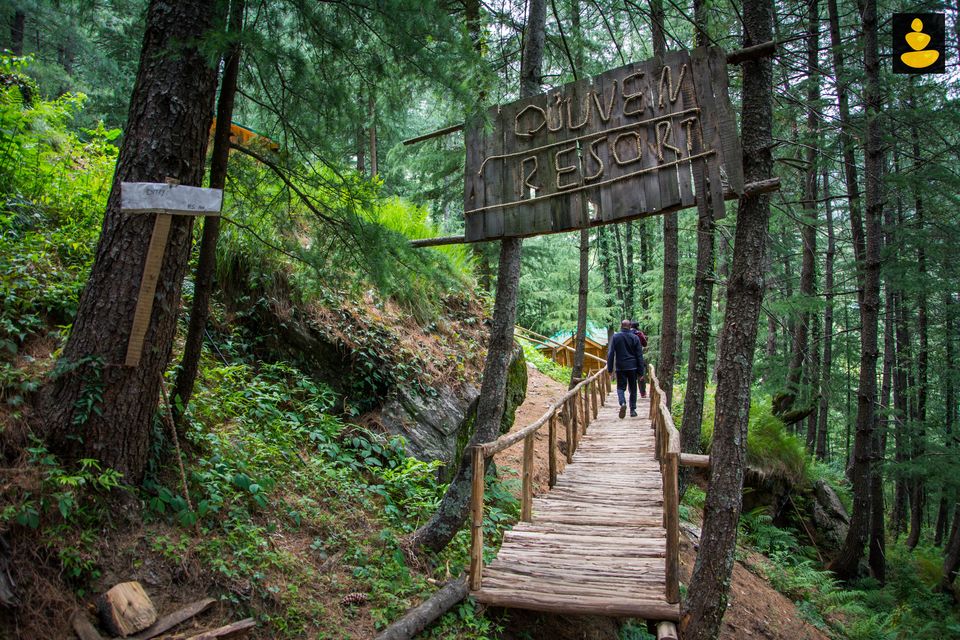 Famous Tourist Spots near to Treehouse Stay
#Day1  This adventure will begin by getting to know this place up, close and personal.
Once you arrive, make sure you freshen up for the long day ahead. Treehouse stay includes all types of modern amenities.
In addition, Kotkhai is an offbeat destination, which makes it one of the unexplored places of Himachal.
There are many quite-renowned attractions in the neighbourhood such as Naga Devta mandir and Nava Peak.
Similarly, some other close-by tourist spots include Mihanigarh, Swahu Rock and Chool peak.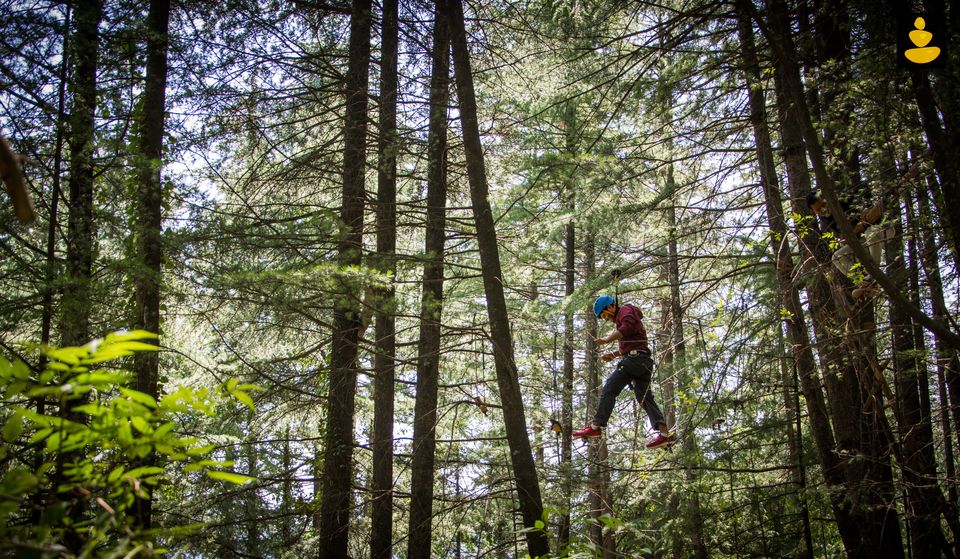 Adventurous Activities
The treehouse stay provides an awesome experience to its guests.
However, any treehouse experience would be incomplete without some activities which are set out to give you an adrenaline rush.
Therefore, we provide some interesting activities which you can indulge in like :
•Bamboo Bridge.
•Burma Bridge
•Hanging Bridge
•Rappelling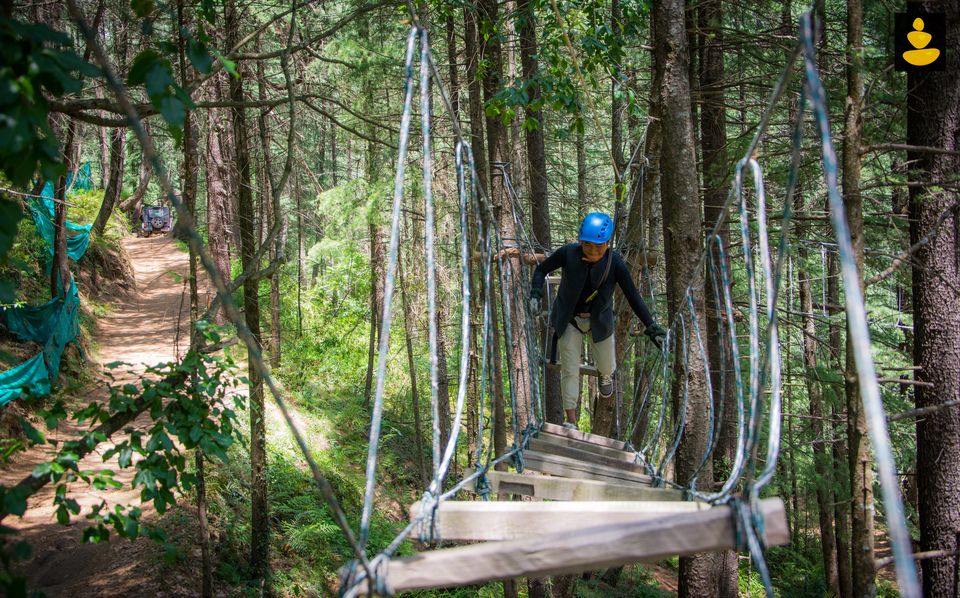 Memorable Experiential Stay in Treehouse and Camps
No adventure is complete without sleeping under the sky full of stars!
So, to make this trip all the more memorable, we provide tent-camping for our guests.
Additionally, you will get to live in a spacious tent to experience the raw adventure.
Tents will be equipped with comfortable bedding so you can sit, relax and lay down as per your wish.
Later at night, you can enjoy the delicious food and listen to some amazing tones while sitting under the stars and having a blissful time with your loved ones.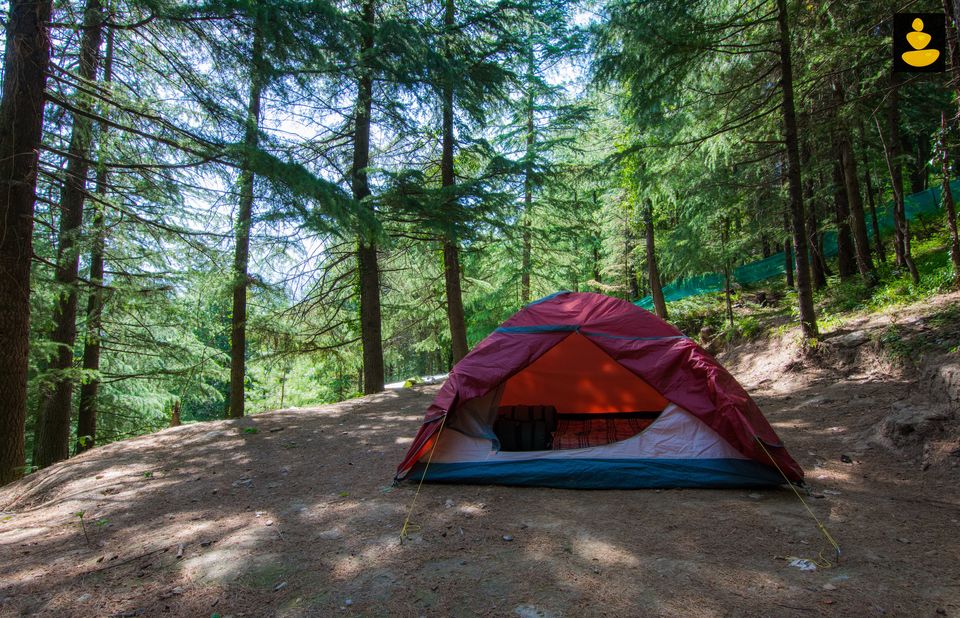 The "night in the jungle" experience is made all the more rustic by the bonfire facility with some light music.
In addition, the cold breeze, the warmth of the bonfire, and some delicious food along with the laughter and mild melodies, what else could be there to ask for?
Enjoy an ecstatic night with your loved ones and refresh some memories or indulge in a fun karaoke session with your friends and family.
In other words, whatever you choose, we promise it will be a night you will reminisce for the rest of your life!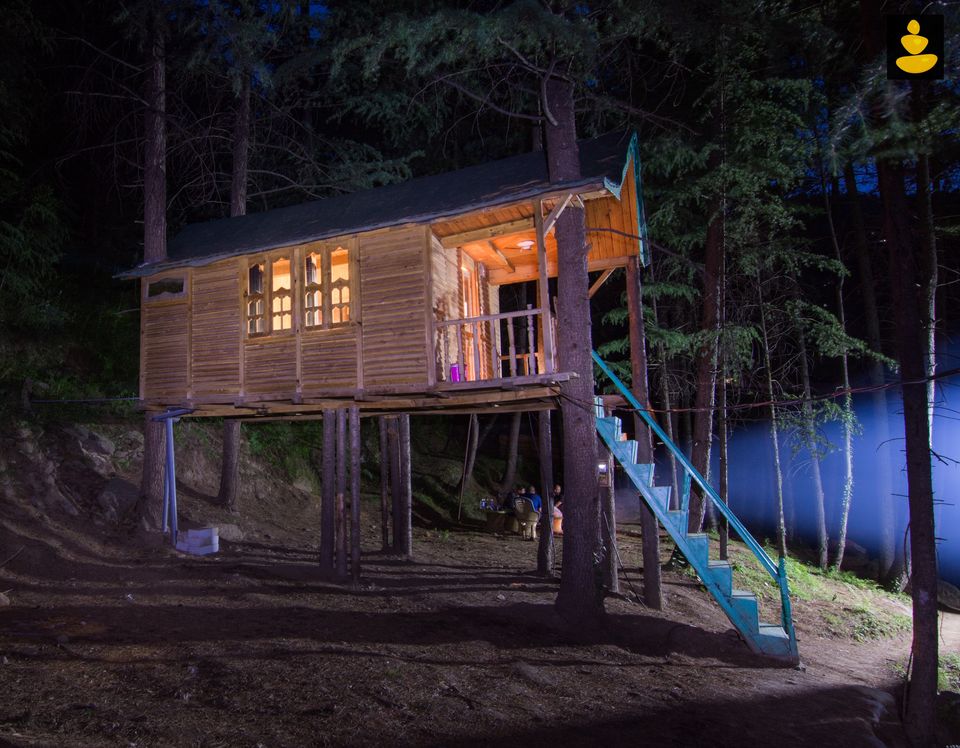 Delicious Food Court
At the end of the day, you will be greeted with some delicious dinner. Vegetarian or non-vegetarian, your command will be our demand!
For instance, snacks, coffee, tea, water, everything will be provided.
We have some of the best staff who look after our guests and to ensure your stay with us is as comfortable and memorable as possible.
The treehouse is an amazing stay not just for adults but for kids as well!
Moreover, the safety of our guests is one of the main focus.
Parents can bring their kids, who are above age 6, along with them to make them more rooted to the earth.
As they say, "Do more things which make you forget about checking your phone."
In conclusion, this experience has been curated by our expert team, with the aim of bringing people as close to nature as possible.
Above all, breathe pure oxygen for a few days and wash away all your worries in the scent of the leaves and the soil!